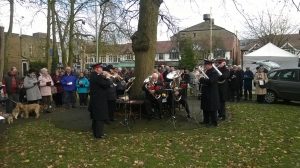 Our annual open-air Christmas event in Oak Meadow takes places on Saturday 21 December at 11 am.
Why not take a short break from the frantic whirl of Christmas shopping and come along, whatever the weather, to the park in the centre of Cheadle Hulme on Station Road?
We will be singing well-known Christmas Carols and will be accompanied by The Salvation Army Band – always a fantastic sound. We'll also be celebrating the birth of Jesus through short Bible readings done by local people.
There will be hot drinks and mince pies to enjoy afterwards. Enjoy catching up with friends and neighbours. The event is free and everyone is very welcome.
Come along, it is for all ages…and bring the dog!