Churches Together in Cheadle Hulme has a new Treasurer, Maurice Heneghan. Here's all you need to know about him…
Where in Cheadle Hulme do you worship?
At St Ann's Roman Catholic Church. I've been going there for over 35 years since our family moved into the area. In fact, as we were unpacking our boxes on the day we moved in, someone from St Ann's came round and said 'hello' and invited us to go along the next Sunday…and we never looked back.
What made you stand for the position of CTCH Treasurer?
Well, I've been involved with the Christian Aid fundraising and campaigning side of CTCH for a few years and have enjoyed that. Constance Jones, who has been the Treasurer for many years wanted to pass on the baton to someone and I thought I could help. Organisations like ours rely on people saying "I'll do it" or nothing happens.
Are you a whizz with money?
I wouldn't say that. I'm comfortable with a spreadsheet and with putting together a budget though. Before I retired, I was a project manager in the financial services industry. I'm happy to put my professional experience to use to help CTCH.
Why is Churches Together important to you?
I think working together has got to be better than working in isolation. There are things we can do as a group of churches that it would be difficult just for St Ann's to do on our own. CTCH already has an established programme of events but we're beginning to think about new projects for the new decade. I'm joining the leadership team at an exciting time!
How do you like to spend your 'free' time?
I enjoy watching sport – rugby and football in the winter and cricket in the summer. For rugby, I enjoy the local games including at Stockport and Manchester but I was in France in January to watch Toulouse. For football it's Millwall and my family bought me a season ticket for the cricket at Derbyshire when I retired.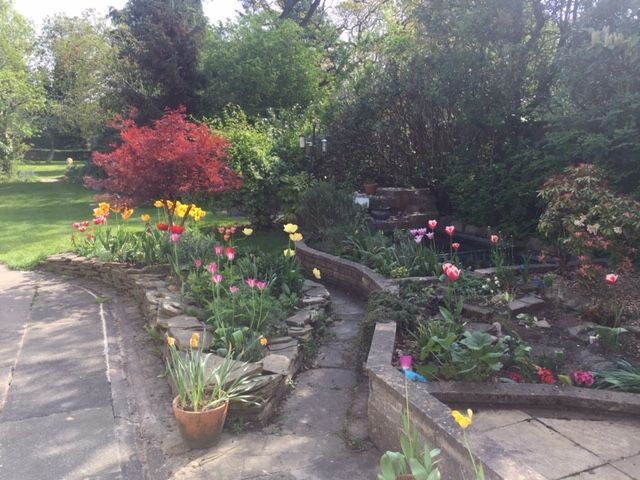 I spend a lot of time in the garden and try each year to produce decent vegetables. The photo above shows the garden last spring.
And finally, is there a character in the Bible or a passage from it that particularly inspires you?
It's got to be St Peter. He's full of doubts but very much comes good in the end.