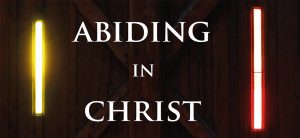 Churches Together in Cheadle Hulme will join Christians around the world this January in the Week of Prayer for Christian Unity (WPCU) – 18 to 25 January 2021.
"Abiding in Christ – and you shall bear much fruit" – is this year's theme , which is based on the Bible passage from St John chapter 15 verses 1-17.
The resources and worship material has been prepared by the ecumenical Monastic Community of Grandchamp in Switzerland. The community has 50 Sisters, women from different generations , church traditions, countries and continents. They remain faithful to a life of prayer and the welcoming of guests.
Abide in Christ – represents the Community's vocation to prayer, reconciliation and unity in the Church and human family.
In choosing theme for WPCU 2021, the Community of Grandchamp remind Christians worldwide the importance of praying for the fruits of closer communion with our brothers and sisters in Christ and greater solidarity with the whole of Creation.
Fr James Loughrun SA says " In these days of the Coronavirus threat, our world has become smaller. We are one in response. More than ever we need to appreciate the value of Christian Unity".
More information is available from Churches Together in Britain and Ireland, who have put together a series of reflections and prayers for each day of the Week of Prayer for Christian Unity.

Churches Together in Cheadle Hulme will hold an online service to celebrate WPCU. Keep an eye on our Facebook page for details.