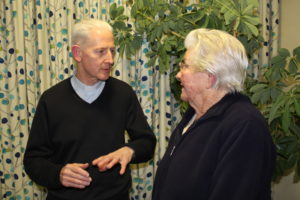 "It feels good to be welcomed into another church…but it results in a bit more nervous energy being expended!"
This is how Rev Philip Peacock described his recent pulpit swap experience when he exchanged his usual 'spot' at Cheadle Hulme Methodist Church to visit the community at Grove Lane Baptist Church.
The CTCH pulpit swaps took place during the Week of Prayer for Christian Unity. Rev Dr Ruth Gouldbourne from Grove Lane was the visiting preacher at All Saints, and Michael Aiers from All Saints delivered the sermon for the Methodist congregation.
Rev Ruth's sermon at All Saints (based on John Ch 1 v35 to 42 where Jesus meets Peter for the first time) is available to listen to online.
"Pulpit swaps are one small way in which we can seek to express the unity we have as Christians and the trust that we have in each other. "
Rev Philip believes that they help build relationships and can lead to a better understanding of one another's traditions and practices. It is also a great way for CTCH to go beyond its loyal supporters and to reach some other members of our nine churches.