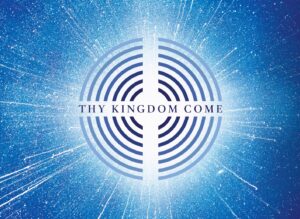 Now in its fourth year, Thy Kingdom Come (TKC), is a multi-denominational worldwide wave of prayer which takes place between Ascension Day and Pentecost. This year it is 21 to 31 May 2020.
TKC is about praying for more people to come to know Jesus. Each of us is asked to think of five people who we would like to know God's love.
Usually, each year there are large gatherings of people in major cities and groups of people meeting together to get involved. This year is different because we can't gather due to the coronavirus crisis. However, there are many resources in both hard copy and digital format to help us. There are apps, games, booklets, kits and packs, music and much more. Explore these on the Thy Kingdom Come website.
There are specific ideas and activities for churches and individual Christians. TKC has also just launched an augmented reality app which works alongside the Family Digital Adventure Prayer Map. The app, which features feature daily games and videos, is available for smart phones and tablets, on both Apple and Android. Here is an introduction from the Archbishop of Canterbury, Justin Welby and CBBC presenter, Gemma Hunt:
Families may also enjoy the new series of Family Prayer Adventure podcasts. These are a fun and engaging way to help families pray together. There is one following each daily theme of Thy Kingdom Come, and they are about 10-12 minutes long. They feature a game, an interactive Bible story, a chance to pray and great music.
*** STOP PRESS ***
Join the virtual online Thy Kingdom Come prayer room on Saturday 30 May from 10 to 11 am. You can 'visit' the zoom session for the whole time or just a portion of it. Everyone will be muted (except at the beginning and the end of the session). You won't be expected to lead the prayers or to pray out loud. You'll see a rotating series of slides with some prayer ideas/prompts/words. You can choose to follow these, or follow your own prayer 'plan.' If you feel more comfortable switching your video off during your 'visit' to the room that's fine.
For the link and password to join the TKC virtual prayer room please contact Sarah from CTCH by email.
More information:
Find out how your church can take part